Saint George's School Celebrates Opening of 'King' Building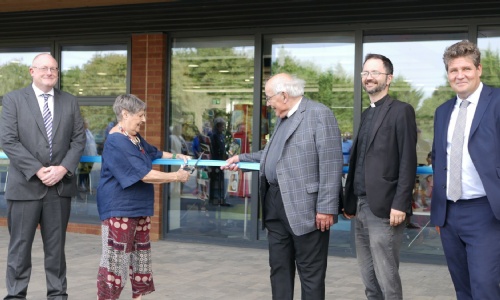 On the 1st of September 2022, the new King building was officially opened by Rev. Joe King. The King building has been in use for the past year to provide excellent facilities for a range of subjects. We couldn't be happier with the official dedication ceremony now finally opening the terrific workspace, for hundreds of our students and members of staff.
"This project has taken several years to bring to reality, all through some of the most challenging times imaginable… The pleasure on the students' faces when they entered the new building and indeed the value, they have gained from the new learning spaces have made it all worthwhile". -Steve Carey, Executive Head of Saint George's All-Through CofE School
The choirs from both the Primary Phase and Secondary Phase sang amazingly for all the attendees, with the primary phase singing 'He'll Be there', the Secondary Phase singing 'I Dreamed a Dream' before all coming together, in the true All-through School spirit, to sing 'Any Dream Will Do'. We would like to say a massive thank you to all the students for taking part and showing the talents of Saint George's.
Thank you also to, Rev. Nigel Bourne, Rev. Micheal Payne, Rev. Joe King and Rev. Trudi Oliver, for attending the event and giving some uplifting speeches to celebrate the official opening.
We can't wait to see the evergrowing positive impact that the brand-new facilities have brought to Saint George's.
Check out Kent Online's cover of the King Building Opening.