Trust Sports Day 2022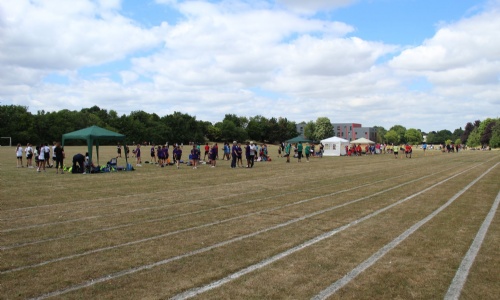 On Thursday the 7th of July 2022, Saint George's CofE School hosted the Trust Sports Day, thanks to Mr Bright and the amazing Secondary Phase Sports Department. The event consisted of a range of athletic events from Shot-put to the 400m Relay.
Year 5's and 6's from Shorne CofE, St Botolph's CofE, Stone St Mary's CofE, Sutton-at-Hone CofE, Horton Kirby CofE, Rosherville CofE, Holy Trinity CofE, and Halling Primary, went to Saint Georges Secondary Phase Field, adorned with their PE kits and enthusiasm, all ready for the competition to begin.
Everyone participated with determination and excitement. It was brilliant to see the healthy competition between the schools, as they went up against each other to score the most points across all the events, and battled for Gold, Silver, and Bronze.
Overall, across all the events, St. Botolphs placed 3rd winning Bronze, Stone St Mary's placed 2nd winning Silver, and Sutton-at-Hone took 1st place Gold.
Special mention must go to Halling school which had the majority of year 4's competing in the year 6 events and they finished 3rd overall in the year 5 competition
A massive thank you to all who organised, took part and supported the children, who helped out with the running of the event, including scoring and explaining the activities that the primary pupils were taking part in.
As a Trust, it was a great opportunity for the family of schools to come together, not only to have the opportunity for friendly competition but also to share their talents and make new friends with like-minded peers.